Nautitech 40 Open Charter
After we had the opportunity last year in La Rochelle to do a short test sailing with a Nautitech 40 Open with an experienced skipper, we now wanted to charter a catamaran just like this. So we researched where this would be possible without a long journey during the summer holidays. At that time, in January 2020, Corona was still far away. We found the company "Enjoy Sailing" in Lemmer on the Ijsselmeer. The boat was still free, the children had the desire and time to come along, so the catamaran was booked for four days and a deposit was paid. In the course of time Corona played an increasingly important role and the venture was on the rocks. We decided to take the risk and not to cancel. This was the right decision, lucky. The Netherlands was not classified as a risk area and the handling of the Corona rules was handled in a typically Dutch casual and unagitated manner. Another big unknown was, as always, the weather. But what can I say – it really couldn't have been better! Sunshine from morning to night, light winds of 10 to 15 knots and a water temperature of 23 degrees. Klaus has joined our family crew, whom we got to know during our Atlantic Circuit in Antigua in 2015. The home port of his Hallberg-Rassy is Lemmer and for several decades Klaus has been sailing on the Ijsselmeer and around. So it was great to have a friend and pilot on board.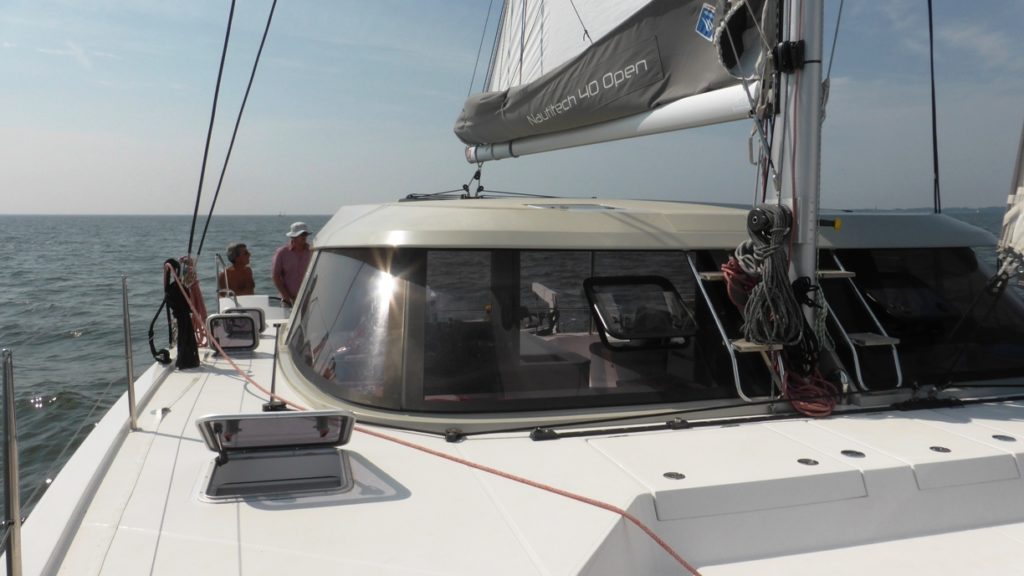 The Nautitech 40 Open charter version has four double cabins and two single berths, so with six people we had plenty of space. However, taking over the boat turned out to be a bit bumpy, as it was very unclean and some small things were broken, which were only repaired after our complaint. A few hours before we had been able to view an owner's version of the Nautitech 40, which had recently been chartered, in Sneek at Jansma Jacht BV. This boat had just returned from a longer trip and had not yet been cleaned. Honestly – it was cleaner than the "cleaned" boat in Lemmer. So it was cleaned and one or the other repair was done, then we could move in. To make a long story short: the boat fully convinced us, but unfortunately the charter company didn't. No handover took place with the reason that it would take much too long and we could not remember everything anyway and would ask again tomorrow. Aha. Ingo had booked a three-hour skipper training with costs, so that we were instructed the next day in the special features of a catamaran and also set the sails. There were some valuable tips and with this knowledge we started our first lock maneuver.
Everything went well, then the sails were set and after a second lock manoeuvre at Enkhuizen we reached Hoorn in the late afternoon. On Wednesday we went back and again through the lock at Enkhuizen. On Thursday we sailed back to Lemmer and dropped anchor in the bay Grote Brekken. On Friday morning we raised anchor and Ingo moored backwards in a tight curve in the box a short time later. Phew, that was unusual and luckily it was almost windless. With wind from the side the catamaran offers an enormous attack surface, like a rolled out genoa. And then there's the missing keel, where the helmsman has to steer bravely with the two engines. An absolute challenge as a newcomer. Under sails the Nautitech could not really show what she is made of because of the low wind. But the unusual manoeuvres and manoeuvres were very easy to perform in these moderate conditions.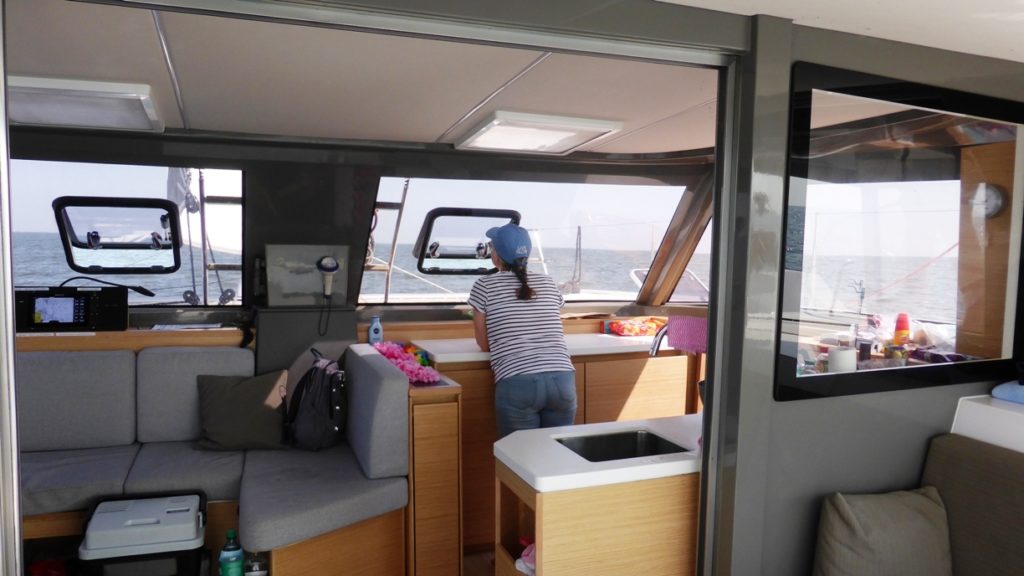 The Ijsselmeer with its pretty little towns and wonderful anchorages is a great, protected area, perfect for us catamaran testers. Unfortunately, the catamaran was equipped with a dinghy only certified for three persons and with a weak 480 W electric motor, which did not really work well, so that we had to be towed once and unfortunately could not go on longer trips. Unfortunately we couldn't row either, as the dollies were missing and there was only one paddle. The funny employee of Enjoy Sailing had already told us before we set off that "people don't use the dinghy much because it goes so slowly and is no fun. But maintaining a gasoline outboard would be too much work." Customer orientation looks very different.
But we still had a wonderful time and returned to Bremen well rested.
The cockpit is spacious, the atmosphere is good.
Since we did not get into distress at sea, we could try out our brought along life raft on the last evening. The maintenance would have been due already in 2016, but for the next trip we prefer to buy a new one. Fortunately the liferaft worked perfectly. However, space is limited for four people. In case of an emergency, it is very uncomfortable in swell, darkness, cold and fear of survival.
About the Technique
We also took the opportunity to thoroughly inspect the two-year-old Nautitech 40 Open and, apart from electronic problems, did not find any serious defects.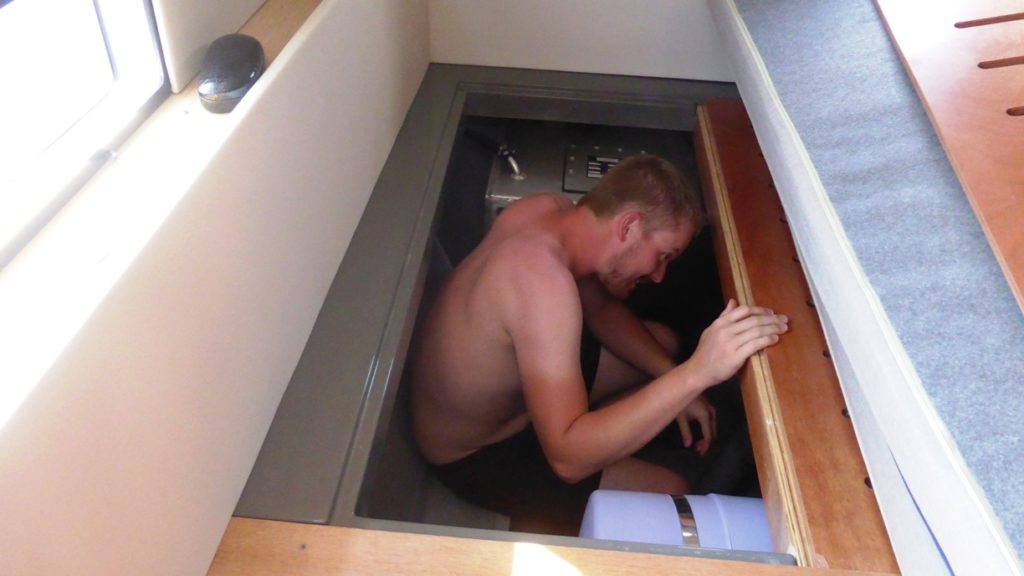 First of all, the electronic problems would have been an absolute exclusion criterion for Nautitech if there had not been an emergency switch box. This means that in case of failure of the electronics at least the bilge pumps and the navigation lights have to be activated. And we had a failure of the electronics several times during the four days.
The first evening I just wanted to dim the display a little. For this purpose the power button is usually pressed briefly. Unfortunately, the corresponding submenu did not appear after several attempts. So the best thing to do is to restart the device and shut it down and switch it off by pressing the power button for a long time.
It will shut down and then immediately start up again. The request for an acknowledgement appeared, but unfortunately the touchscreen didn't work for the requested acknowledgement. After some time there were several beeps and the device shut down again to start again. After the fourth startup the touchscreen fortunately worked and after the acknowledgement the electronics were running again and I was able to call up the dimmer function.
So I couldn't switch off the electronics, but she did it by herself in the next two days. We had an east wind and were anchored. The rising sun apparently heated up the fairing in such a way that the integrated control unit switched itself off around 8:00 am. We cooled it down a bit (sun protection by a light towel, draught by opening a hatch) and after about half an hour it was completely up again. In between there were vain attempts to start up. Unfortunately the B&G sign appeared only briefly before the monitor went black again.
Updates were wanted by the central system and the plotter at the helm as well, but the Enjoy Sailing employee was glad that I didn't do it. In the past there were always difficulties with the updates and many settings had to be changed by him afterwards…
And there were a few other faulty little things:
Locks of the rear window hatches broken
Small snap lock broken
Water tap in port bath defective
Door hinge with broken spring
Broken closure on a front baking box
Electric ignition of the oven defective
B&G autopilot control unit defective, but the autopilot could be operated via the starboard plotter
rolling system of the Code Zero very choppy
Water in motor bilges and rusty alternators due to leaking hatch covers