More energy demand = 48 Volt energy system?!
Separate generators were yesterday – 48 Volt energy storage systems are the future
Due to the rapidly increasing comfort and energy demand on yachts, mobile or stationary petrol and diesel generators are increasingly used on many ships. If the energy gained from sun, wind and water power is no longer sufficient, however, another source of energy can be used before a separate generator comes on board. In this way, fuel and CO2 emissions can also be saved!
This can be achieved by using a larger alternator on the drive engine. But with 12 Volt alternators, the yield is limited to a maximum of 3 kVA due to the high current flow at 250 amperes. To be able to draw even more electrical power from the drive engine, more effective 48 Volt alternators have been available for some time.
This is what 48 Volt alternator systems can currently do
The US-American companies Balmar and Integrel Sollutions have specialized in high performance alternators and already offer 48 Volt auxiliary alternator systems from 3 kVA to 9 kVA for propulsion diesel engines. But still at very high prices. It would be timely if the leading diesel engine manufacturers, such as Volvo Penta, Vetus and Yanmar, would now join forces with the automotive supplier Mahle, for example. Mahle already has a 48 VDC / 100 A alternator and is certainly in a position to supply a separate high-performance regulator for it. This would enable marine diesel engine manufacturers to offer a value-adding option for their engines.
Example offer from ALSHOP.de for the alternator Mahle MG1 IA1627 for JOHN DEERE 2500E, 100A 48V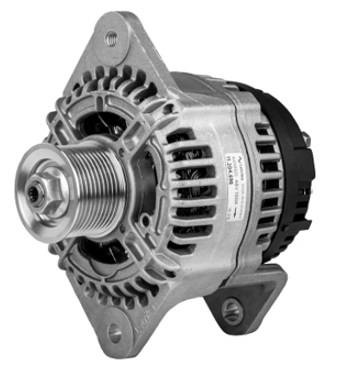 669,00 € *
The advantages of the 48 Volt energy system compared to an additional generator:
less space requirement
less weight
less installation effort compared to built-in generators
lower maintenance requirements
lower maintenance costs
up to 25 % less fuel consumption according to Balmar and Integrel Reports
significant reduction of CO2 emissions
Okay, there's another catch. The additional generator will be turned on if there is a current demand for electricity. The incidentally generated energy of the drive motor usually has to be stored in a 48 volt battery bank first,
Additional benefit of the 48 Volt battery bank
The 48 Volt battery bank can of course also be used for renewable energy sources, such as solar power. And with a 48 VDC/12 VDC converter, the 12 Volt power supply on board is always guaranteed.
Example video of the 48 Volt energy storage system from Integrel Solutions:
48 Volt systems currently also used by car manufacturers to reduce CO2 emissions
Among car manufacturers, 48 Volt mild hybrid systems are on the rise, in which the braking and rolling energy is stored in a 48 Volt battery by a belt-driven starter/generator. This is used, among other things, to start the engine and assist acceleration.
Explanatory video for the 48 Volt mild hybrid system of an automotive supplier:
Summary:
In my opinion, a 48 Volt energy system for yachts is a further step towards reducing CO2 emissions, similar to the 48 Volt mild hybrid system used in the automotive industry. Of course it would be ideal if a 48 volt system could be offered ready for series production by the renowned diesel engine manufacturers in the near future.
According to Balmar, it has already been clarified with the engine manufacturer Beta Marie that there are no problems when using the 48V/100A alternator from their 43 HP engine on.
Who of you has made current experiences with 48 Volt alternators?
Please report to ahoi(at)welt-ahoi.de
About the technical background of the author
Ingo loves to analyze technical problems and to develop innovative and efficient solutions. Since the 1980s, his improvements for the "Sea Lynx" naval helicopter, which he submitted as an avionics engineer and which have been acknowledged, have been implemented. Later, as technical purchaser and product manager, his tasks included the purchasing marketing of innovative electrotechnical products. To this end, he was in close contact with Asian manufacturers and their developers on a daily basis. In recent years he has also been responsible for the electrical safety of new products as Quality Manager.
And here the information of the company Balmar about their 48 V alternators: