Smart hybrid drive can be implemented for catamarans
In the meantime, I have presented my idea of the smart hybrid system for catamarans to selected companies. Torqeedo is the first company willing to implement such a project at a Nautitech 40 Open. In cooperation with the electric motor manufacturer Waterworld from the Netherlands, they can offer a 15 kW inboard motor in the foreseeable future. However, it would not be with saildrive, but with shaft.
The Torqeedo proposal without my modifications: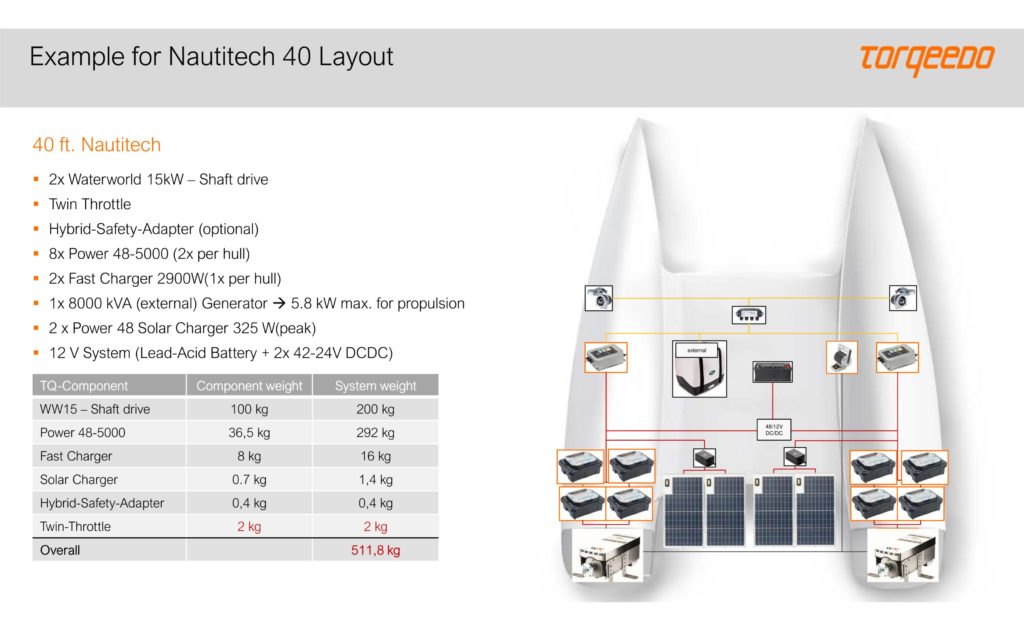 The Integrel LITE generator on the diesel engine
Furthermore, the company Integrel Solutions from the USA has been offering a 48 VDC LITE set for several weeks now. The 6.5 kW generator can be easily mounted to a Volvo Penta with the included brackets. The comprehensive set is supplied exclusively with the matching Torqeedo LiFeP04 batteries. They wrote that they have received several requests for such a smart hybrid system recently and that they are currently working at full speed on a generator bracket for the Volvo Penta D2-40F. So my idea is in the spirit of the times and not utopian, if they are already working on its implementation in United States.
Photo with their mounted generator on a Volvo Penta D2-60F: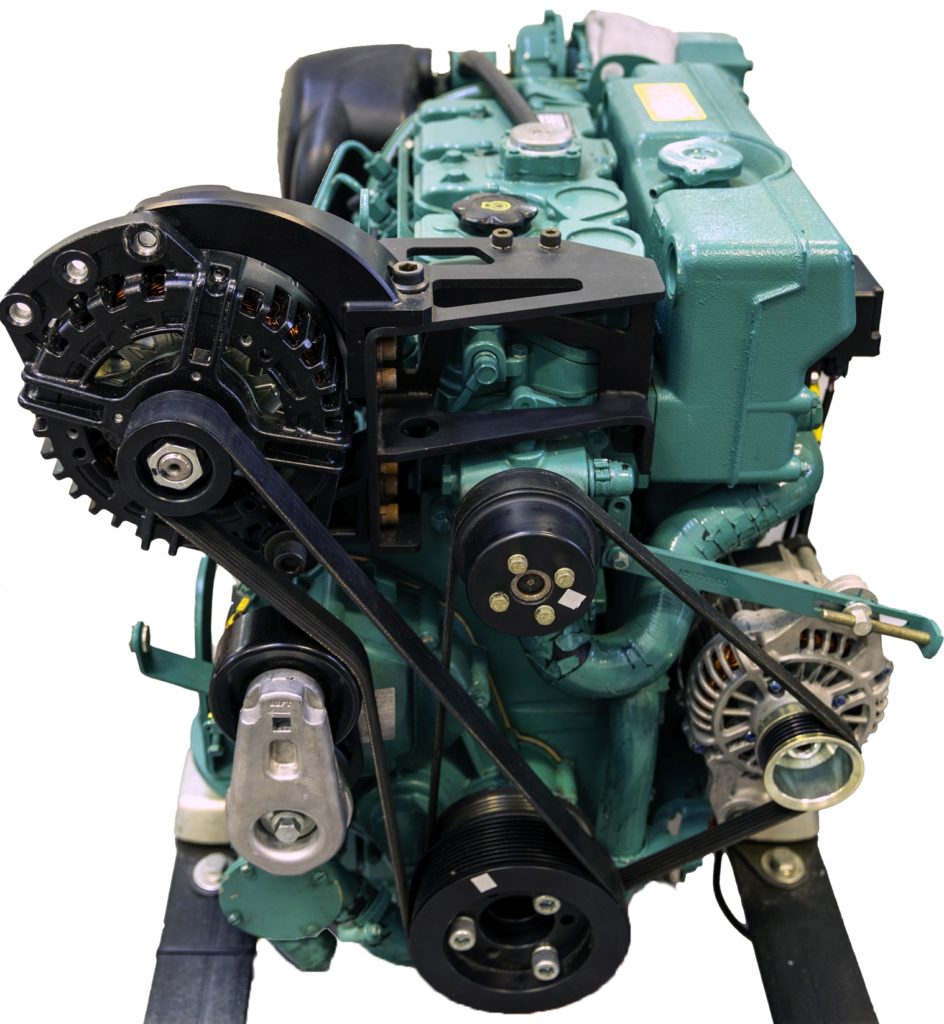 The list of all components of the Integrel LITE set:
Integrel Lite Generator
Integrel Argo Bus Data Junction Box
Integrel Lite Intelligent Controller Limited to 140A
Integrel Intelligent Controller License Retail
Integrel Engine Mount Kit
Integrel Controller Data Loom
Integrel 5″ Display Kit Complete & Fixings
Integrel Phase Cable Loom
Integrel Smart Safety Switch 48V
Integrel Gear Detect Switch Cable
Torqeedo Li NiMnC batteries 7kWh Pack*
Torqeedo Battery Frames and Straps
MultiPlus-II 48/3000/35-32 230V
Integrel Controller Data Loom
Integrel Lite user and installation guides
Cable CAT5 5 Metres x 2
*Additional batteries available in configurations of 14kWh & 21kWh at extra cost
Includes 2 years parts & labour warranty
Further specifications are available at: Integrel LITE | Integrel Solutions
The Torqeedo / Integrel combination results in the following picture: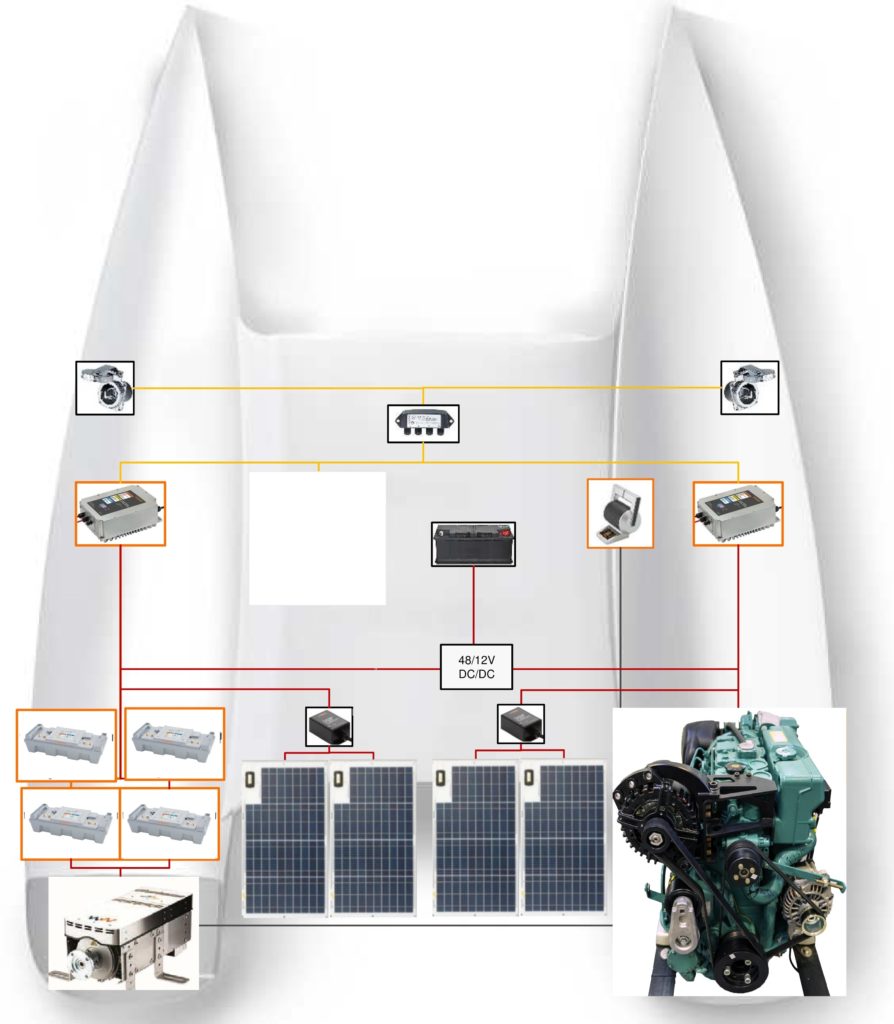 Alternatives
I have not yet received final answers from all potential companies for this project and therefore there will be some alternatives in the coming time.
Alternatives for the 48 VDC alternator from Integrel Solutions would be the new 2.9 kW and 4.8 kW alternators from Balmar. But so far they only have a ready to use assembly system for Beta Marine diesel engines from 43 HP upwards. Systems for Volvo Penta and Yanmar are still being worked on.
The electric motor manufacturer Oceanvolt is still reserved for such a smart solution and at Victron Energy I ended up with my special questions at a German dealer. In the past, Victron Energy represented Balmar's products, but those days are over.
And since Volvo Penta wants to offer a 15 kW electric motor in addition to diesel soon, a cooperation with Integrel Solution would certainly be perfect for such a smart hybrid system.
Here again are the main advantages of the combination of electric and diesel drive:
Planned diesel savings of up to 50 %! Less than the systems of the established companies with two electric motors, but also much cheaper, lighter and more compact and therefore much more attractive.

Maintenance

of only one diesel engine

More range

than with two electric motors
Corresponds to the spirit of the age to

save energy and CO2 emissions

Additional safety benefit! For safe operation, modern LiFePO4 batteries require a battery management system (BMS), which is also susceptible to faults due to the many electronic components and sensors. For example, it can happen that the battery switches off for thermal reasons just at the moment when full power is needed during maneuvers. With my smart hybrid system, switching off the overheated 48 V battery bank would only slightly reduce the engine power on one side. The diesel engine has full power and the electric motor is still supplied with up to 6.5 kW by the integrated generator.
This is what Integrel Sulutions reported about this post on its website:
HYBRID DRIVE, IT'S NOT FROM A GALAXY FAR FAR AWAY.
More information in my previous articles:
Smart hybrid system for cruising catamarans
More energy demand = 48 Volt energy system?!
If you have any suggestions please contact us at ahoi (at) welt-ahoi.de
About the technical background of the author
Ingo loves to analyze technical problems and to develop innovative and efficient solutions. Since the 1980s, his improvements for the "Sea Lynx" naval helicopter, which he submitted as an avionics engineer and which have been acknowledged, have been implemented. Later, as technical purchaser and product manager, his tasks included the purchasing marketing of innovative electrotechnical products. To this end, he was in close contact with Asian manufacturers and their developers on a daily basis. In recent years he has also been responsible for the electrical safety of new products as Quality Manager.