Which Catamaran Fits to our Blue Water Cruise?
We had very open and enlightening conversations during an entertaining visit at the boot in Düsseldorf. For us it was again primarily about which catamaran could become the successor of our HANSEAT 70. We were especially excited about the world premiere of the EXCESS 11, which, in addition to the EXCESS 12, could have been a direct competitor to the Nautitech 40 Open, which we have favoured so far. The topic of a possible hybrid drive was also discussed in detail.
The EXCESS Catamaran Story: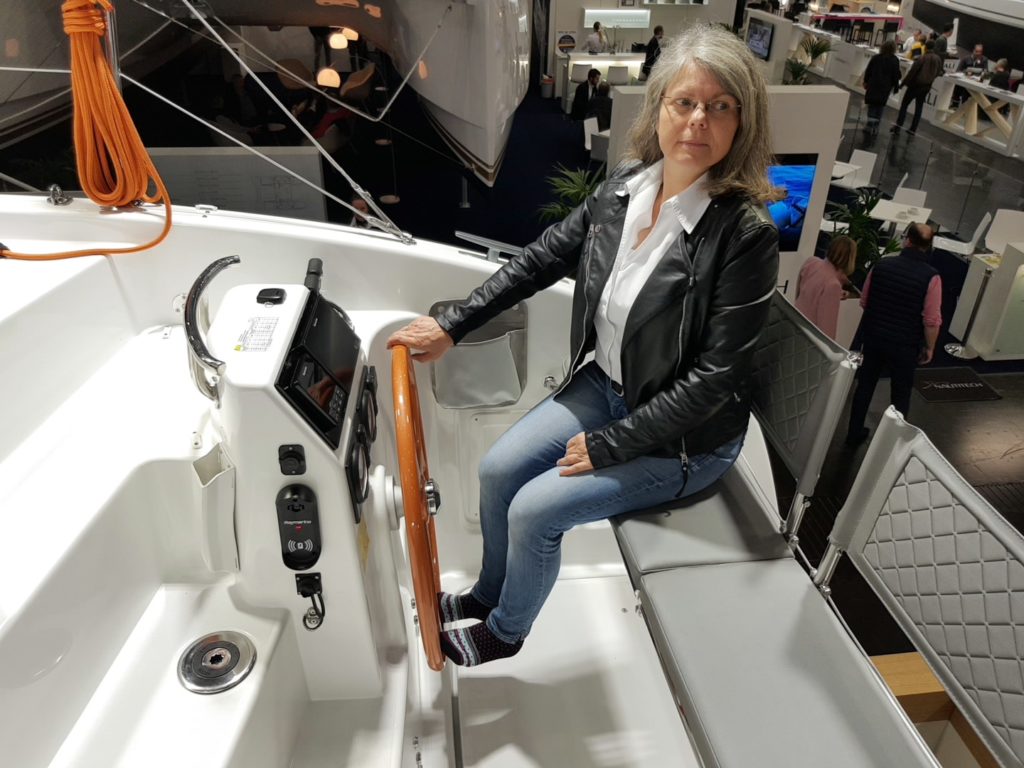 We already had a lot of e-mail and telephone contact with the German EXCESS catamaran representative and we arrived at the stand at the agreed date with great excitement. Especially to make a pro and contra list in comparison with the Nautitech 40 Open. We were greeted with a short handshake and could have a look at the catamaran in peace. Our contact person then said goodbye with the words: "I'm going to the Monos now and if you still want to talk to me, you can find me there". Strange, but so we could look around alone at first and a lady from the EXCESS stand accompanied us.
But what can I say, hardly on the boat, I could just get Antje to stay a little longer. The longer we stayed, the more our first impression was confirmed, that this is a prototype knitted with hot needle. I will refrain from publishing photos of the obvious defects of the construction, which we noticed after only 5 – 10 minutes during the inspection. The short time was enough for us and the quality did not convince us, there is still a lot of air up there. The exhibited EXCESS 11 was a no-go for us and so I could do without making a pro and contra list.
Out of curiosity we will probably take another look at an EXCESS 12 in the water, but not together with the less motivated representative of the German dealer. Our French-Caribbean Nautitech dealer Neo Marine recently started selling EXCESS catamarans, but he sees them more for the charter market than for customers like us. According to a competitor (not Nautitech), Beneteau's new brand EXCESS is more likely to harm its own established brand LAGOON than the other manufacturers. From this point of view one does not see a long future for the new catamaran brand EXCESS. There are also rumours from another side that there will be no "Mulithull of the Year" award in her class this year, although she was nominated. There seems to be a bad year of the new multihulls in the class.
News from the Nautitech booth
On display was the Nautitech 46 Fly, which is definitely not for us, and it won't be a 46 Open either, as it is too big for us. But there were very good discussions with several highly motivated representatives and employees of Nautitech. We are already looking forward to seeing them again in April at the fair in La Grande Motte.
Current topic hybrid drive:
1st Fountain Pajot with electric drive from Volvo Penta
Last year we had already seen the prototype of Fountaine Pajot, the Lucia 40 with electric drive from Volvo Penta, in La Rochelle. The topic is very interesting for us and that's why we also visited the Fountaine Pajot stand. It will probably take some time until the hybrid drive is ready for series production. But on this occasion the managing director of EURO-CATS gave us very good advice and we could convince ourselves of the generous space offered by the Astrea 42. Even the smaller Lucia 40 has space advantages over the Nautitech 40 Open, but is the high steering position something for us? We will also clarify that at the trade fair in La Grande Motte.
2nd Nautitech with hybrid drive from Torqeedo and Whisper Power?
We also had a detailed and informative conversation at the Torqeedo stand with the Vice President Sales EMEA. To be clear, Nautitech does not yet offer hybrid propulsion for their catamarans, although a Nautitech 46 Open is featured in the WhisperPower catalogue on the subject. However, it quickly became clear that for several reasons such a system would not be suitable for the small 40 Open, but only for the larger Nautitech catamarans.
3th Other Catamaran Manufacturers with Hybrid Drive from OZEANVOLT
We also had a very detailed conversation with the boss and the graduate engineer of cat sale. They represent the brands Outremer, NEEL, Aventura, Broadblue, Rapier, SUNREEF as well as Ocean Voyager and offer a wide range of used catamarans. There are already some catamarans in their extensive range that are powered by an OCEANVOLT hybrid drive, but these are much larger than 40 feet. Conclusion: For our long-distance cruising project the hybrid drive is currently nothing. But we will meet again at the multihull fair in La Grande Motte in April and we are looking forward to it very much!